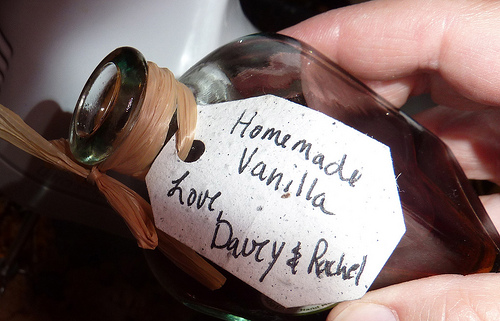 Nothing beats the smile on your parents' faces when you present them with a popsicle stick frame covered in macaroni and glitter. But since we're not five years old and can't get away with that anymore, try these homemade gift ideas for all the people on your list:
Dessert mix
Find a recipe for cookies, brownies (not the special kind), or cocoa. Fill a mason jar with the measured amounts of dry ingredients in layers, not mixed together. Add a festive tag with the cooking instructions and any other ingredients needed.
Cost: Under $5 per jar
No-Sew Blanket
Go to your local fabric store and get two colors of fleece fabric. The measurements vary for who you're giving the blanket to, but for an average adult get two yards of each color. Lay both pieces of fabric down on the floor. Cut a four-by-four inch square from the corners. Along the edges, cut strips four inches long and one inch wide without separating the strips from the rest of the fabric. Tie the strips together.
Cost: $10-$12
CD Compilation
No, it's not cheesy. Your significant other will love a compilation of music that reminds you of them. The best part is, all you have to pay for is the CD. Use music from your iTunes or other music library. The best compilations have their favorite bands, but use the opportunity to introduce them to some new music as well. It's the gift that keeps on giving.
Cost: $2
Coupon book
This can work for just about anyone on your list. Make a coupon book with things you are willing to do for someone. For your parents, maybe it's washing the dishes or listening to a story from their childhood without complaint. For your best friend, maybe it's paying for a lunch date at their choice of restaurant.
Cost: Free
Framed Photograph
If you went on a trip and got great pictures of a place your friend, parents, or S.O. has never been to, frame it and give it to them. Or, pull out an old photo of you and the receiver. The photo is free; all you have to do is accesorize. Don't forget to look at thrift stores for some ornate frames.
Cost: Depends on the size and quality of the frame
Farmer's Market
Don't have the time or materials to make the gift yourself? Visit the farmer's market to find handmade jewelry, candles, and other gifts. You still get the handmade charm without all the work, and while supporting local businesses. The market will also usually have vendors that sell wine, plants, spices, and food spreads. Farmer's markets and craft fairs usually offer better prices than the store.
Whatever you decide, play to your strengths. If you know how to knit or crochet, the answer of what to give for the holidays is pretty simple. Also, remember to give a gift that will be memorable and personal to the person you're giving it to. When in doubt, give your parents your transcript with your grades for this semester. Unless you got bad grades.