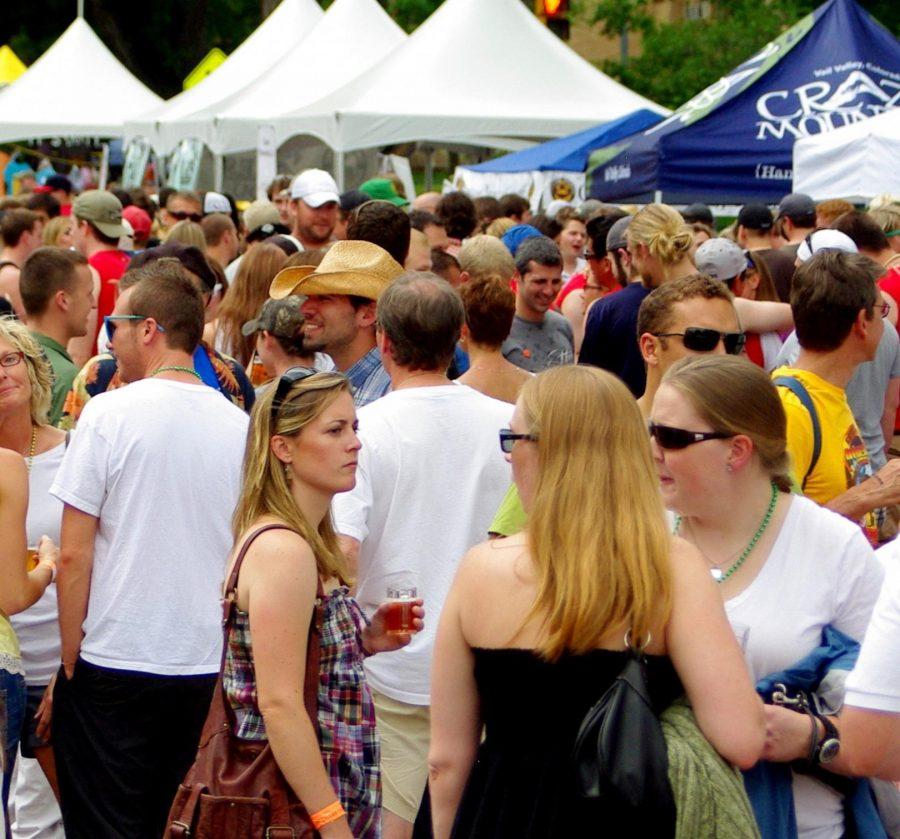 Fort Collins may be known as the Napa Valley of craft beer, but the entire state of Colorado participates in the passion of brewing.
The 23rd annual Colorado Brewers' Festival is happening this Saturday and Sunday, from 11 a.m. to 12:30 p.m. for VIP tickets and 12:30 p.m. to 6:30 p.m. for general admission, at Civic Center Park. More than 35 Colorado breweries will be in attendance, serving more than 70 beers among them.
Peggy Lyle, Event and Entertainment Director for the Downtown Fort Collins Business Association, listed a plethora of new additions to this year's festival, including VIP access to small-batch beers.
"[VIPs] have access to this special area that will have food and beer included in that area, exclusive breweries, maybe some of the brewers that can only bring small batches that can't provide enough for the large part of the festival will be serving there," Lyle said.
Pateros Creek will be one of the nine Fort Collins host breweries at the festival.  Although just celebrating their one-year anniversary, this will be Pateros Creek's second year at the festival.
"This is one of the few beer festivals that actually pays for the beer, so small breweries such as ourselves don't have to go broke to be there," Cathy Jones, Creative Genius of the young company, wrote in an email. "The Downtown Business Association has always been very supportive of the brewing community and we love that Brewfest has reformatted to really focus on tasting beer and learning more about brewing instead of just getting drunk."
Along with beer and food sampling, there will be more than 15 Colorado bands playing the festival throughout the weekend.
"We are big beer drinkers in this band," CSU graduate Adam Brown, co-vocalist and guitarist for the Fort Collins group Mosey West said. "We're playing two brew fests in the fall, and we started playing shows at Odell's and other breweries around Colorado."
This year's headliners are Fierce Bad Rabbit and 12 Cents for Marvin, both groups from Fort Collins.
"[12 Cents for Marvin] are a band that actually got started at CSU, and they've been a Fort Collins favorite for a long time now," Lyle said. "They actually don't play regularly, but they do get together about once a year to do the Colorado Brewer's Festival, and it's a super fun ska show."
Along with the available VIP package, this year's festival will have more shade, free water courtesy of the Bohemian Foundation and The City of Fort Collins, and free soda to those who are the designated drivers for the night. The tasting tickets can also be used for the food vendors, and using four of them can get you a full-sized beer.
"I think this is the most natural location for the Colorado Brewer's Festival, because Fort Collins really embodies Colorado brewing industry," Lyle said. "The festival embodies the Colorado beer spirit. It's outdoors, it's friendly, and it's just celebrating as one big community."
Pricing and more information about the Colorado Brewers' Festival can be found here.
Related articles
Beer week in Fort Collins(collegian.com)
Welcome to: Fort Collins(collegian.com)