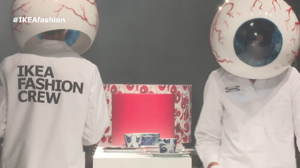 As if assembling your own furniture wasn't enough, now IKEA has their own clothes line.
"The retailer has introduced a number of new collections over the years developed in collaboration with fashion designers. But today they went a step further with their first fashion show ever in Milan today.
Live from Milan Fashion Week, Ikea launched a bizarre fashion show to reveal the results of collaborations with two fashion designers: GILTIG by Katie Eary and SVÄRTAN by Martin Bergström. The collections are scheduled for release in 2016."
To read the article, click here.