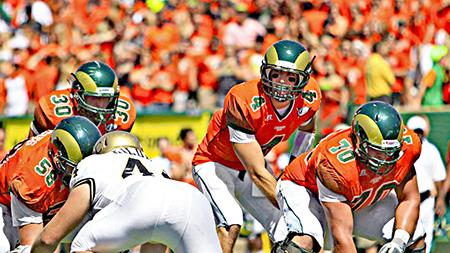 The Colorado State football team does not want to toe the line of excellence. They want to ram right over it on the legs of running back Chris Nwoke.
The University of Texas at El Paso Miners are coming to Hughes Stadium on Saturday for a 1:30 p.m. kickoff. The two teams have not met since October 2011, where the Rams lost 31-17, and they are ready for a rematch.
In that last game, Nwoke made sure UTEP fans knew his name, with 23 carries for 93 yards and a 24-yard touchdown run. This year, he wants to hammer home the message with a win.
Tight end Crocket Gilmore also played well against UTEP, but that is irrelevant to him; all he remembers is an incompletion.
"I think I actually had a dropped pass in that game, so that's all I remember," Gilmore said. "We have a different coaching staff, they have a different coaching staff; we will just have to make the adjustments."
Certainly a lot has changed since 2011, co-defensive coordinator Al Simmons has changed sides and both teams have completely renovated coaching staffs. UTEP has now implemented a 4-2-5 defensive scheme, requiring special preparation from the Rams.
"It'll present problems if I don't know what I'm doing because it is different," quarterback Garrett Grayson said of the Miners' defense. "I'll just have to know where the guys are, be on my toes and ready to play."
Although no touchdowns were scored last week against Alabama, Grayson and his offense have played more efficiently the past two weeks than at the start of the season.
But, Coach Jim McElwain knows that his team has to be meticulous in order to combat their unique formation.
"This is a team that has skill, they have a veteran defensive line and they are really active up front," he said. "It gives you some things that could give you issue, but it's an opponent that we worked on in the spring and the fall, so it has some carryover."
Although the defense played a great game last weekend, McElwain is not the kind of coach who dwells. He immediately looks to the next opponent, pushing his team to change skins and adjust.
The Miners have two key players that the CSU defense will have to contain if they want to control the game. Freshman running back Aaron Jones, who averages 84 yards per game, has the kind of speed and explosiveness that hurt the Rams early in the season.
"They have a fast running back, and the quarterback has good movement so he is able to run out of the pocket," defensive back Shaq Bell said. The Miner's quarterback, Jameill Showers, has 99 yards rushing in 2013.
If they keep him throwing, Showers will likely target junior wide receiver, Jordan Leslie. Leslie averages a team-high of 4.7 receptions per game but has yet to score a touchdown.
"We aren't worried about them per se," defensive lineman Curtis Wilson said. "But we will have to prepare, make the right adjustments and play a great game."
Football Beat Reporter Cali Rastrelli can be reached at sports@collegian.com